It Can be All about a Comma
A few years back I worked with a brand that offered its users a welcome bonus of €3,200. The brand faced several European countries but was managed by mostly British people. The welcome bonus was translated to all languages, including, for example, German. Germany was an important market for this brand, and they did offer a welcome bonus "bis zu €3,200".
Problem was – a comma is used as a thousands separator in many countries. In USA as well as in the UK. But not in Germany. In Germany they use a period, hence the offer should've been stylized as "3.200€". The Euro sign appears to the right of the number and the comma in Germany separates between the Euros and the Cents… So basically we were offering our German audience 3 Euros and 20 cents of a welcome bonus.
Is It Really That Important?
Yes, yes it is.
Google tried to enter the Japanese market in 2001, but for 8 years failed to overcome Yahoo!Japan is the leading search engine in the market. In 2008-2009 they decided to localize their famous front page. Where everywhere else on the planet, it was a clean design, in Japan the homepage looked like this: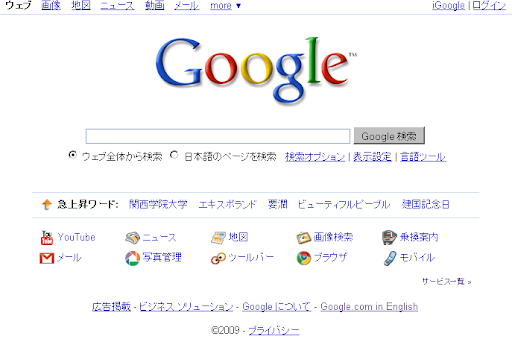 Even the almighty Google understood at the time: if you don't localize, you don't win the market. Period. Only by adding more links, more noise and more icons – which is what the Japanese user was expecting to see – were they able to take over the market and become its leader. They were no longer seen as a foreign, American, search engine. They were now localized.
Another example of Google in Japan was with their Apps for Business product. I will let them tell the story (video starting at 17:45)
Nowadays, in 2020, Yahoo!Japan is no longer a search engine, but they use Google's SERP as their own. Another step for market domination. And if Google did it, so should you.
Do: Localize
So what should you do, and how to approach localization?
Research. We can't stress this enough. The best way to understand a market is to first thoroughly research it
Test. Test. And test again
Talk to locals. Their insights can blow your mind sometimes
Language is important, and no, we don't only mean the official country language. Languages has nuances. A British person will search for their favourite game. And American will search for their favorite. A Spanish person who wants to play slots will look for tragaperras, while his Latinoamerican friend will search for tragamonedas. In Nigeria, a bet slip is called copi. These nuances matter
Learn your audience's preferences and local games. Don't just translate what you know and present everybody the same. Indians love live casino games, and specifically their own local games like Andar Bahar. In Finland and Canada the most popular sport is ice hockey
Understand your audience's technological capabilities. Certain programmers and product managers are used to working with a desktop and a wide screen. Not everyone around the world has that. Some countries are heavily based on mobile internet. Internet speed changes from one place to another. The devices change. Adjust your product to your market
Learn how they are used to pay. Credit cards and e-wallets seem natural to most of us, but not everywhere. In Indonesia, only 4% of people have credit cards. They are used to a payment method called Cash-on-Delivery. And so do many others
Adjust your marketing plans. Different countries, different platforms. For example:
– We all know Google SEO is important. But in Russia you have Yandex, China has Baidu and Korea has Naver. Vietnam, Czechia and other countries have their own search engines as well, and you would want to get to know them
– Social media changes as well. Facebook and Twitter? Sure. What about VK (Russia), WeChat and QQ (China), Line (Thailand and Japan), Kakao (Korea)?
Don't: Turn into a Cliche
The funniest and most common mistake people do is painting their whole site with the country's national flag colors and symbols or even name their site in a "national" name. Not many people appreciate that. Just try to imagine your own country's sites and colors. Are they always in the country's flag colors?
Don't imitate, mimic or mock the way you think people from other countries and markets write or speak. Don't call every Aussie "mate" and don't finish every line in your Canadian site with "eh". In fact, it's better if you let local writers write for you. They will know better
Don't assume what worked in one market will work in another. As we said earlier: Research and test. All the time
Don't generalize. LatAm, for example, is not one place
Don't patronize. No matter what you think about other markets, you'll be surprised. Always respect your readers and users. I guess that's always true
Conclusion
I always believed marketing has to be related to the market. And the market many times is a different country or geographical area. If you want to succeed and market well, you need to research and understand your market, and talk to your audience in language they understand, through a platform they can reach with local products they can use.